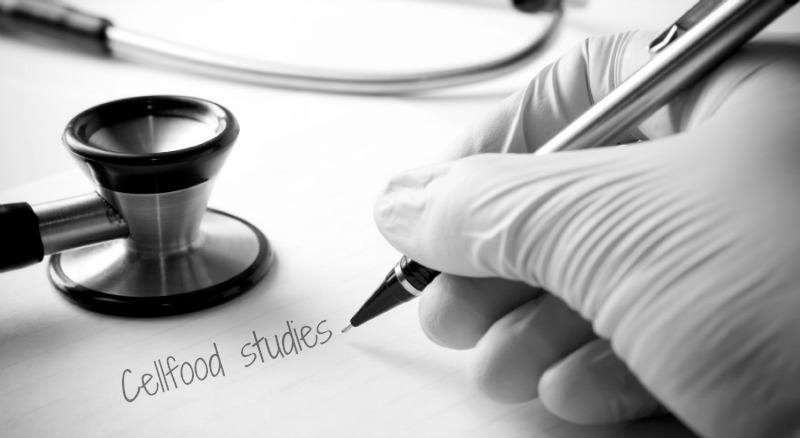 We have collated a selection of studies on Cellfood to which we have provided links below. We must stress, however, that these are third party studies with no input or endorsement from Cellfood UK.
Dr. Laz Bannock, Ph.D., Director The Centre for Integrative Medicine, London Published in Functional Nutrition— August, 2003
Extract: It is my opinion that Cellfood is the only dietary supplement available today that has been designed with a high degree of biological availability that will specifically benefit the cells' requirements— while positively influencing the biological terrain, especially by removing waste. It should form a part of most, if not all, dietary regimens.
Full article here.
Research by The Sports Institute of the University of Pretoria, South Africa
This study included such results as an 11% reduction in pulse rate, a 10% increase in red blood cell count, an 11% increase in disease-fighting white blood cells, a 15% increase in blood platelets, and an 18% increase in hemoglobin.
Read summary here
Report of an Investigation into the Colloidal Nature of Cellfood by Dr David Fairhurst, PhD
CELLFOOD is clearly colloidal dispersion. The shape of the particle size distribution and the magnitude of the zeta potential would suggest that the product would be compatible with body fluids. The data supports the notion that CELLFOOD should be beneficial as a nutritional supplement.
Read paper here
Clinical Observations on the Nutritional Efficacy of Cellfood Utilizing Live Blood Analysis and Dry Blood Analysis Microscopic Evaluation Procedures by Michel Coyle Director of Research and Education NuLife Sciences.
Cellfood cleans the colon while eliminating the growth of undesirable micro-organisms….
Read report here
Efficacy of CELLFOOD (Deutrosulfazyme) in patients diagnosed with Fibromyalgia, by the University of Sienna
After analyzing the clinical data, it is noted that after twelve (12) weeks of treatment with CELLFOOD (Deutrosulfazyme), there was a marked clinical improvement of Fibromyalgia's symptomatology both on a subjective level (VAS) and on an objective level (tender point count) on treated patients.
Full report here